Top 10 Best Beyblades
Welcome to my post about the Best Beyblades. Playing with Beyblades is never ending in our home as we all derive so much fun from them. We have quite a number of Beyblades that we have bought over the years as we love trying out new ones too.
If you are into Beyblades already, you would be familiar with the popular saying that goes… "Beyblade, Beyblade, let it Rip!" This is what teams usually say when they are prepared to battle with their Beyblades. You may already know that Beyblades are also referred to as "Beys".
————————————————————————————————————————
Benefits of Beyblading
I find that as we play with these Beys in our home and with friends, we develop good team spirit, it improves our decision-making skills and improves our level of interaction.
Once kids start playing with Beyblade toys, you notice they start talking about what makes the Beyblade spin longer than its counterpart.
This reminds me of concepts like 'gravity' in Physics. This simply means Beyblades are teaching our kids some science without them even realizing. So education happens when kids are actually having fun beyblading and that is a huge bonus!
Beyblades are one of the most popular toys for kids. In this post we discuss the Best Beyblades out there and so here we go!
—————————————————————————————————————————————–
Here are Our Top 10 Beyblades
1. Beyblade Metal Fury BeyLocker Case
– Price:  amazon
– Weight: 11.2 ounces
– Dimensions: 2.6 x 7.8 x 7.8 inches
– Defense type Beyblade
– Comes with Portable, Durable case
– Comes with Torch Aries 125D Defense Top
– Includes collector card, 1 five piece top, a guide on how to set it up correctly and assembly tool
– Can hold up to 10 Beyblades and 1 ripcord
This Beyblade comes with a cute case where you can store your Beyblade parts. The Beylocker case can hold up to 10 Beyblade tops and a ripcord. The case prepares you for battle time; more so, when that time comes, you don't want to start looking for all your battle pieces.
The case keeps items organized and always ready at all times. It gives kids peace of mind; even if they are going over to have a play day with a friend, they can easily carry all Beyblade components in the case and not worry about leaving anything behind! Long story short….you can always find your Beyblades in place!
2. Beyblade Extreme Top System X-102 IR Spin Control Gravity Destroyer Top
– Price:  amazon
– Weight: 4 ounces
– Dimensions: 1.7 x 7.5 x 8.3 inches
– Includes ripcord, electronic top; left-spin IR Spin Control Launcher with IR control and instructions
– Defense type Beyblade
– Requires 3AAA batteries – not included
– Includes 3 button cell batteries
By pressing a button, you can change the direction and spin speed of your top. This gravity destroyer top also features Gravity Demolition Force battle call, metal clashing sounds and special moves.
You can enjoy Beyblading with this toy by challenging your competitors with the Gravity Destroyer IR spinning top and the moves displayed by this type of Beyblade are controlled by you!
3. Beyblade Extreme Top System Electro Battlers X-53 Electro Pegasus Top
– Price:  amazon
– Weight: 4 ounces
– Dimensions: 1.7 x 7.5 x 8.3 inches
– Attack type Beyblade
– Comes with ripcord launcher, electro battlers top and a guide
– Includes 3 button cell batteries
Pegasus spirit, beyspeed readout and animated Pegasus spirit are featured on this electro Pegasus top. The electronic battle top features battle sounds, spinning sonic action and flashing lights. These are cool features that come with this Beyblade. Thanks to the cell batteries already included in the pack. This set includes ripcord launcher, instructions and electro battlers top.
4. Beyblade Burst Master Kit Playset
– Price:  amazon
– Weight: 1 pound
– Dimension: 1.6 x 7 x 8 inches
– Attack type Beyblade
– Includes: energy layer, disc, performance tip, launcher, belt clip and a guide
– Nice for all ages and great as a starter Beyblade
I talked about this particular Beyblade in one of my posts and how it is so cool! You can keep this close to you by clipping it to your pants or shorts, that way you are always ready for action! Have a look at how cute it looks in the picture below!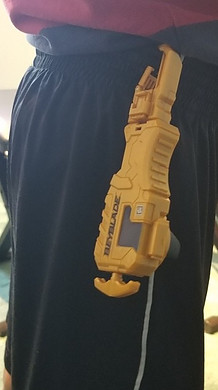 This Beyblade also known as Xcalius X1 has no separate zip cord so you don't have to worry about too many loose pieces. Another reason why I like this Beyblade is because it is very easy to use and even easy for younger kids to launch their Beyblade.
Some parents allow their 3 year olds play with it but in my opinion age 4 would be ideal for this type of Beyblade and under supervision at least for the first few attempts to ensure your child is using it correctly. Once they get a hang of it that's it! They'll be asking for more 'Beys' as they are fondly called.
Apart from Beyblade burst rip fire tops, the parts that come with this kit are interchangeable with majority of Beyblade burst toys; meaning you can customize them however you want and compete!
You can uncover digital products in the Beyblade Burst app by scanning the code on Beyblade Burst top's energy layer and the burst string launcher. The app is really cool as it allows you use different combinations of performance tips, forge discs and energy layers within the stadium.
Below is one of our videos of what beyblading looks like after scanning the code. This Beyblade video of ours has over 7,000 views on YouTube! So sit back and enjoy and even subscribe to get more useful tips that can help you!
Scan the code on Beyblade Burst top's Energy Layer and the Beyblade Burst string launcher to unleash the corresponding digital products in the Beyblade Burst app. The app allows for play with combinations of Performance Tips, Energy Layers, and Forge Discs within stadium atmospheres. Battle in the app with these awesome creations.
5. Beyblade Burst Evolution Star Storm Battle Set
– Price:  amazon
– Weight: 8 ounces
– Dimension: 3.6 x 14.6 x 14.5 inches
– Comes with an Attack type and a Defense type
– Includes 2 Beyblade Burst SwitchStrike launchers
– Includes: Star storm Beystadium, 2 right spin tops and right/left spin launchers
The Beyblade Burst Evolution Star Storm Battle Set can burst into pieces, but bursts vary. Comes with great Beyblades including Beyblade Switchstrike Valtryek and Satomb both right spinning tops. Also accompanied by high quality launchers. The plastic casing around the stadium keeps the parts in the stadium; meaning the parts don't go flying out during battles!
Now because the stadium is kind of star shaped, you can observe the behavior of your beys in cool battle patterns! Due to its switchstrike features, these Beyblades also affect the way the tops behave in a good way!
Also, the Beyblade burst app lets you scan the code on the tops of the SwitchStrike; that way you can enjoy beyblading with hundreds or thousands of different combinations online!
6. Beyblade Burst Turbo Slingshock Rail Rush Battle Set
– Price: amazon
– Weight: 1.93 pounds
– Dimensions: 3.6 x 17 x 14.5 inches
– Includes: slingshock rail rush
– Beystadium
– 2 launchers
– 2 battle tops – Z Achilles A4 (balance Type) and Wonder valtryek V4 (attack Type)
Age: great for older kids – from 7 years old
This set includes burst stadium, launchers and spinning tops. Due to the way this stadium is designed, you can easily launch your attack in different areas and sections of the bey stadium.
The way this particular stadium is designed is quite different from the others. It has one large area for battles and two smaller areas. The whole rail system adds a cool vibe to this awesome stadium.
Epic battles occur in this Bey stadium thanks to the dual rail system which pushes tops forward as they move along the rails and into the ring where they clash and burst!
You can customize the spinning tops however you want since the tops are interchangeable so go ahead, customize your tops and have fun battling! Scan the code found on the slingshock tops and have fun beyblading on your screen.
The tops are a bit heavy; so this type of Beyblade would be more appropriate for older kids.
7. Beyblade Metal Fury Hyperblades Hyper-Strike Battle Set
– Price:  amazon
– Weight: 1.1 pounds
– Dimensions: 4.2 x 15 x 14.5 inches
– Comes with 2 collector cards
– Includes: Beystadium, 2 spinning tops (Cosmic Pegasus and L-Drago III) and 2 launchers – 1 right spin ripcord and 1 left spin ripcord
Now apart from the fact that this set comes with everything you need to battle, you can configure cosmic Pegasus spinning top in 4 ways for defense or attack while the L-Drago top can be configured in 2 ways. This helps absorb hits from opponents. For increment in stamina, final survive spin performance tip part can change from hole flat to spike.
Feel free to modify these Beyblades with the other ones you have and create awesome combinations!
8. Takara Tomy B-73 Beyblade Burst God Valkyrie.6V.RB Starter Pack with Launcher Spinning Top
– Attack
– Weight: 2.2 pounds
– Dimensions: 2 x 1 x 2 inches
This is a nice Beyblade. Although not the strongest but it sure does have a lot of great characteristics. Due to the way the tip is designed and the spike wings on the layer of this Beyblade, Valkyrie is known as an attack Beyblade. Some people refer to the spike wings as 'teeth'. Most of its attack is usually within the first few seconds. You get stickers with this bey. So kids may need help from an adult to properly place the stickers on the Beyblade.
9. Beyblades #BB118 JAPANESE Metal Fusion Starter Set Phantom Orion B:D 4D
– Price: amazon
– Stamina Type Beyblade
– Dimensions: 5.5 x 2 x 5.5 inches
– Weight: 2.4 ounces
– Spins for a very long time
This Phantom Orion Beyblade is a stable, heavy Beyblade with a lot of stamina and it weighs more than most Beyblades out there. This Beyblade holds up nicely during many battles. It has a long bearing drive performance tip and is able to win most battles thanks to the length of its tip which makes it a little higher and gives it more advantage when in battles with other Beys. The rounded tip at the end also keeps it spinning for long periods. On average, Phantom Orion can continue spinning for about 5 minutes without stopping if launched properly! This Beyblade is also referred to as " the best stamina Beyblade of all time".
10. Beyblades JAPANESE Metal Fusion Starter Set #BB108 LDrago Destroy F:S
– Price:  amazon
– Dimensions: 5.5 x 2 x 5.5 inches
– Weight:1 pound
– Attack Type Beyblade
– Launcher included
The LDrago Beyblade is a really powerful Beyblade. In the Beyblade metal fusion TV series, LDrago won many rounds of the tournament. LDrago was also able to challenge Pegasus and he almost won!
The cool thing about L Drago is that it is mostly made of metal which makes it quite heavy. It looks very artistic though and a beautiful Beyblade at that. It is tough and can withstand a lot of hits from its opponent(s) due to its weight. This Beyblade is not afraid of its opponents as it actually spins on the spot for long periods waiting for other Beyblades to attack. This LDrago Beyblade is also referred to as an "attack" type.
Conclusion
Beyblades are fun to play with. As you may have already noticed in this post, Beyblades come in different colors, shapes and styles. Our favorite is number 4 – the Beyblade Burst Master Kit Playset because it is great for beginners, parents and even for experienced players. Have a look at the Beyblade Burst Master Kit Review and video here.
Beyblades are great gifts for kids and adults too! The cool thing is you can even make them the theme of your kids' upcoming birthday! Yes, instead of having kids sitting around playing on the computer, they might as well have fun beyblading and they can have several tournaments.
You can then decide to reward the winning team with something special. Cool idea isn't it? You can modify the Beyblades and come up with something spectacular!
I highly recommend these Beyblades discussed in this post. The act of Beyblading is simple and not a complicated one. You rip the Beys into the stadium and the top starts spinning.
We put this post together to help you because we know your goal is to get the best Beyblade that your child would love. We've have helpful posts on "What are Beyblades" and "Are Beyblades Still Popular?"  Be sure to check them out if you havn't as the posts would also serve as guides and give you more ideas about Beyblade types, history, what they are and how to play with Beyblades especially if you are a beginner or a parent.
Do your kids want every type of Beyblade out there? What kind of Beyblades do they enjoy playing with? Please leave your comments below. I would love to hear from you. Thanks.