Beyblade Burst Master Kit Playset Review.
Product: Beyblade Burst Master Kit Playset
Dimension: 1.6 x 7 x 8 inches
Cheapest Place to Buy: Amazon
My ratings: 9.9 out of 10
Product Overview – Beyblade Burst Master Kit Playset
The Beyblade Burst Master Kit Playset makes Beyblading a cool experience when battling. I have to say that this Beyblade was designed thoughtfully. You may already know that Beyblades are fondly referred to as "Beys". It is important to point out that the Beyblade Burst Master Kit Playset comes in only one beautiful "Gold" color.
The Beyblade Burst Master Kit Playset includes a Beyblade burst right spin string launcher, forge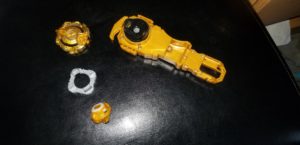 disk and a Beyblade belt clip. Beyblade bursts can be customized anyway you want. This just means that you can combine a random energy layer with a random forge disk and a random performance tip from any Beyblade!
The performance tip for Beyblade Burst Master Kit is called TA05 or you can also refer to it as Xtreme without the "E". The tip is made of rubber which makes the Beyblade move around the stadium very fast with a steady grip.
This is important so that you can ensure they are putting the parts together the right way. Once they know how to do this, they'll get tons of fun out of it and even be asking for more Beyblades so they can battle with you and their friends!
This Beyblade Burst Master Kit parts can be interchanged with a lot of the Beyblade Burst toys; this means you can customize them your own way and compete! There is an exception though – it can't be interchanged with the Beyblade burst rip fire tops.
Now one added advantage this type of Beyblade set has is that you can attach the belt clip and launcher together in order to achieve a longer grip which makes it release an attack type action during battles.
Its also cool how you can clip the launcher to your pants belt too. See video below to see how to put this kit together and how it works!
This Beyblade can also easily burst an opponent or knock them out because it has a sword on the energy layer of the Beyblade as shown in the image below.
I have to say that the Beyblade Burst Master kit has all the features you need in a great Beyblade. It is durable and it is an impressive Bey that would do great in fast paced tournaments!
It is a powerful Beyblade with many ridges and teeth which enable it to burst other Beyblades a lot.
Beyblade Burst Master Kit Video
In this Beyblade Burst Master Kit Playset review, I have included a great video we recorded just to show you how to put the Beyblade Burst Master Kit Playset together and how to use it. Watch this short video below.
What Type Of BeyBlade is the Bey that comes with the MasterKit?
The Beyblade that comes with this Master Kit Playset is an attack type and spins really well. It also has a good
grip and it is also known as Golden Xcalius X1.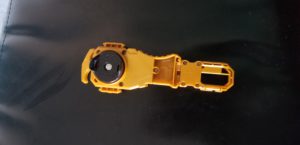 An attack type Beyblade has the tendency to move fast around the stadium so that it can hit and burst other Beyblades in the Stadium with force but that does not mean that other types of Beyblades cannot burst another Bey.
As with most Beyblades, there's no separate rip cord since the cord is attached and it does not come off but stays in, making it safe and easy for younger kids to use when beyblading.
The launcher is pretty straightforward and easy to use. All you have to do is load the spinning top on it and release it! This Beyblade is perfect for beginners and all Beyblade lovers including myself!
Pros
Easy to play with even for younger kids as they are also able to have fun Beyblading with older siblings.
Will make a great gift for those who are just getting into Beyblades and even Beyblade fans too!
You can wear the launcher anywhere since it comes with a clip.
The string is attached which makes launching easier.
The Beyblade Burst Master kit Playset does not have too many loose pieces, this makes it easy for anyone to put it together and launch quickly.
Cons
This Beyblade comes in only one color – Gold.
Has a different way of launching compared to other Beyblades that come with rip cords.
Battle Arena for the Beyblade Burst Master Kit
Beyblade burst spinners bring loads of fun to the battling arena also referred to as the Beystadium. You would need a Beyblade Burst BeyStadium like this one in order to have fun battling with Beyblades.
When launched, the Beyblade burst tops have the tendency of bursting into pieces and once this happens, the opponent or other player gets 2 points. It is important to mention that burst rates of the Beys vary. Now, note that first player to earn 3 point wins.
Take Your Beyblading Online
Did you know that you can Beyblade battle online? Yes! You can battle online with Beyblades. To do this, you would need to download the Beyblade Burst app, then scan the code at the back of the Energy Layer of your Beyblade. The Beyblade Burst App is available for all mobile devices.
Below is one of our YouTube videos from our YouTube channel that shows how to scan the code on your Beyblade.
This particular YouTube video above is about to hit 7,000 views on YouTube! So sit back, enjoy and even subscribe to get more useful tips that can help you!!!
The Beyblade Burst app is great because just like beyblading with your friends at home or at the park, you can also interchange the parts of the Bey however you want by using different combinations of forge discs, energy layers and performance tips in the Beyblade stadium online.
Conclusion
The Beyblade Burst Master Kit Playset was one of the first Beys we got a few years back; till today it still holds up well and its among the Beyblades we battle with. This Beyblade is durable and I highly recommend you pick up your Beyblade Burst Master Kit Playset.
If you're wondering what Beyblades are, you might want to check out our post and if you want to confirm if Beyblades are still a thing, well, they are still very popular today and it doesn't look like they are going away anytime soon.
In my opinion, as a beginner you should practice more with the string launcher that comes with this Beyblade Master Kit before getting into the Beyblades that have rip cords.
Hope you enjoyed this Beyblade Burst Master Kit Playset review.
If you have any questions about the Beyblade Burst Master Kit Playset or just want to add a comment, please leave them in the section below. I would love to hear from you.