I have heard a few people wonder what beyblades really are and sometimes people tend to think that they are actually 'blades'.
What are Beyblades?
In the real sense, Beyblades are colorful sophisticated spinning tops most kids and even some adults enjoy playing with. The spinning tops can be customized in different ways!
Beyblade toys are very popular toys among kids. If you are just getting to know what beyblades are, you would need to know that they are also referred to as 'Beys'. I am so used to calling them Beys as well, so before you know it you would be calling them Beys too…..that is if you haven't started already!
Beyblade was developed and manufactured originally by a Japanese company that manufactures kids toys, Takara Tomy. Shortly after, Hasbro started selling Beyblades too. It really does not matter which brand you love because both Takara Tomy and Hasbro are great manufacturers.
The inspiration behind Beyblades
The inspiration came from the popular Anime Television series … Beyblade(2001), Beyblade Metal Fusion(2009), Beyblade Metal Masters(2009), Beyblade Metal Fury(2012), Beyblade Burst(2016) and Beyblade Burst Evolution/God(2017). The newest series is Beyblade Burst. As an adult, I always look forward to beyblade battles with my kids. Beyblades are indeed interesting toys and kids (boys and girls) love them.
Where to buy Beyblades
You might be asking yourself the question, "where can I buy beyblades?" or "where are beyblades sold?" Well, Beyblades can be purchased from any toy store. Toy stores such as Toys r Us carry them. Another great store to check is Walmart. If you are an online shopper, then a great site to check is Amazon.
One or two Beys may not be enough
Last Christmas, my kids got more beyblades from a friend as Christmas presents. Despite the fact that we have different types of Beys at home, you would think it was their first time of seeing Beyblades as they jumped up in excitement and thanked our friend. So you see, one or two beys aren't always enough because there are several types of beys out there and kids want them all!
Beyblades are well built with high quality plastic since they are made for collision. You might notice a little bit of wear after reasonable usage. Beyblade tops come in different forms of elegant designs and modernized details. They have special features which make them the ideal toys for kids! The classic types of Beyblades are the Beyblade metal fusion spinners or spinning tops.
Why Beyblades are super cool
The fun is derived from battling with the beyblades in a fairly big container referred to as 'Beystadium' just as shown in the picture.
Typically in order to battle, two or more beys (beys as they are fondly called) have to collide in the Beystadium.
A rip cord and launcher shown in the picture, sets the beyblades in motion right in the Beystadium.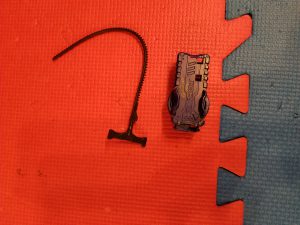 This is where the fun begins and players can compete by launching their beyblades as many times as they want. After several rounds, kids tend to become pros at it. View our beyblade battles here.
Did you know?
Beyblade parts can be customized because the parts are interchangeable.
Benefits
Less screen time, more family time – great for development!
Beyblade battles involve a bit of reasoning and strategizing in order to reduce the speed of a top spinning too fast or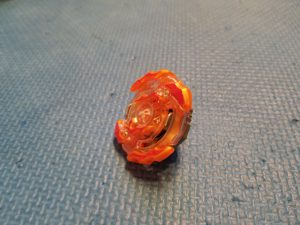 increasing the pace of a top moving slowly. Beyblades have also, reduced the amount of time kids spend on handheld devices. Manual play like this which involves some form of thinking and verbal interaction with other players will aid development in kids and improve their communication skills.
This Beyblade in the picture is called Roktavor R2, but if you are thinking of buying a beyblade, it is best to buy a Beyblade Battle Set. The set comes with the Beystadium, two beyblade spinning tops, two rip cords. Some Beyblade packs come with assembly tools; the ones that do are: The Star Storm Battle Set and the Avatar Attack Battle set. The epic Rivals Battle set does not come with assembly tools. You don't need to purchase any other thing once you have this set….at least for a little while; because there are always new beys being manufactured from time to time. Bey blade toys keep kids busy and keep them away from the screens….at least for a while.
Beyblade rules – How to play
Typically the game can be played by 2 people at a time. Players can choose from unlimited Beys and are also allowed to customize their beyblades however they want for battles. Switching parts once a battle commences is not allowed! The player that reaches 3 points first becomes the winner.
How to award points
If the opponent's Beyblade gets knocked right into the pocket or gets out of the Beystadium, 1 point is awarded. (Ring-Out Finish).
If the opponent's Beyblade stops spinning, 1 point is awarded (Survivor Finish) or (Spin Finish).
If there is a draw, both players get no points.
There is a draw:
If both Beyblades burst at the same time
If both Beyblade stop spinning
If both Beyblades are knocked out of the stadium or into a pocket at the same time
Now, if there is a tie at the end of the battle, both players keep playing until there is a winner.
I have also written a complete guide to Beyblading for parents and beginners, you can check it out here.
Beyblading Online
To preview beyblade battles online before you buy beyblades,  click here or here to get to one of our beyblade battle videos!
Or simply watch the beyblade burst app below!
I also did some non-spining battles with the stop motion app like this on right here!
What do you think about Beyblades? Please share your thoughts. Thank you.