Are you looking to buy one of the best gaming laptop computers on the market? This guide will help you decide on a good laptop that will fit your bill perfectly. We know it's not easy when deciding on what type of gaming laptop to buy given the fact that there are different brands and specifications out there.
What is a Gaming Laptop?
I've heard a few people ask if you can actually use certain laptops for gaming. A gaming laptop is one you can carry wherever you go and it gives you the power to play as many games as you want, at any point!
Gaming laptops are designed mainly for games of high performance, they are usually more powerful and have super features such as large screen size, graphic cards and processors of advanced nature. All of these features create a wonderful gaming experience for you. However, these resource-intensive features often heat up the laptop while cutting down on battery life and portability. Consider how often you'll be taking your gaming on the road, and choose a laptop with a cooling system that leaves your hands comfortable and your graphics smooth.
Difference between a gaming laptop and a regular laptop
Common questions people ask is this ….." Can gaming computers be used for daily tasks?" My answer is yes.
Is a gaming laptop very much different from a normal laptop? Well, I would say there's a bit of difference.
A normal laptop can be used for daily tasks such as word processing, watching movies. They usually have smaller fans, lower RAM (Random Access Memory) and lower display resolution.
How do you identify a Gaming laptop when you see one?
Now gaming laptops on the other hand, can be identified by the overall design, the cooling mechanism and the keyboard. They can be used by movie editors, by game developers or just for your own personal gaming. They come with a CPU that's powerful and higher RAM, large vents, powerful batteries, fans, sophisticated keyboards all of which make them expensive.
A gaming laptop would typically have these characteristics:
They usually have high speed fans which helps cool down the unit and prevents overheating. Gaming laptops should be able to withstand heat so manufacturers try to place fans that function well in their laptops and also provide a lot of vents for proper air flow.
They have high end graphics.
The gaming experience is more intense than what you would get out of a regular laptop.
They usually have sophisticated back lit keys; although some regular laptops have this feature as well but it may not be as intense as that of a gaming laptop.
Less battery life: well not surprising right; since the gaming experience drains the battery. Normal laptops may give up to 12 hours of battery life but gaming laptops may not be able to give as many hours.
So how much should you really spend when it comes to buying a decent gaming laptop?
The simple answer is …it depends. It really depends on how much you are willing to spend. What tasks you would be using the laptop for among many other factors such as the brand, the weight and size.
We've selected a few laptops that we consider the best gaming laptop computers out there and we feel one of these will give you a wonderful gaming experience. You'll be sure to find one that would be suitable for you here. The laptops we have selected here are also highly rated by experienced gamers.
Factors To Consider When Buying a Gaming Laptop
There are different types of gaming laptops in our world today and each one has it's pros and cons. Every laptop offers different features that may or may not be of importance to you. Therefore, it is important to look at certain things or even do a bit of research before deciding on what laptop is the best for you.
Now when buying a gaming laptop, you have to look at the entire computer, the screen, keyboard as well as the specifications. Ensure you consider these factors – resolution, display size, RAM, storage and CPU. Other things you should consider are the battery life, audio, the physical size – how heavy it is, the keyboard. You expect that laptops that fall in the 'gaming' category would give you great experience when enjoying your video games and you would definitely expect it to deliver a wonderful experience than any ordinary computer out there! 
Laptop versus Desktop?
Now people would argue and say " why not buy a desktop?" It is way cheaper. But the point still remains that desktop isolates you. Imagine being at home with your family on a weekend and you are unable to leave your bedroom or home office simply because you are working on your desktop. If you even want to get up and go to where your family members are seated, you would have to pack up not only your desktop but your keyboard, mouse, cable and every other thing you may need. That sounds a bit too much doesn't it?
On the other hand, with a laptop you are able to move around and stay close to your family be it in the living room, dining room, backyard or even while you're on the beach on vacation… Well, you get my point here. Life is much easier with a laptop! Now I'm not saying a desktop is bad for you. I'm only saying a laptop may be more convenient in most cases.
Here are the 5 Best Gaming Laptop Computers in 2019
If you are looking for the best gaming laptops for 2019, here are 5 wonderful options for you that cuts across every kind of budget, taste and size. Also, as you may already know, prices of gaming laptops vary depending on the configuration you're looking for. Did you know that there are also good gaming laptops you can actually get for just under $1000? Read on to find out.
1. Gigabyte Aero 15 Review – NVIDIA RTX Laptop
GIGABYTE AERO 15-X9-RT5P 15″ Thin Bezel FHD 144Hz IPS, Intel i7-8750H, NVIDIA GeForce RTX 2070, 2666MHz 16GB RAM, M.2 PCIe 1TB SSD, RGB Keyboard, Win10 Pro, 94Wh Metal Chassis Ultra Slim Gaming Laptop
Price:  (amazon.com)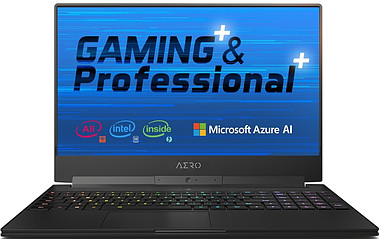 Warranty: 1 year
Nowadays many manufacturers of gaming laptops seem to fall in the same category of who can produce the slimmest laptop computer.
These days, there seem to be a tie among many gaming laptop manufacturers because they tend to manufacture on the basis of ensuring the output of laptops produced are slim and at the same time powerful. This brings us to number one on our list the Gigabyte Aero 15.
At 0.74 inches thick, this slim beauty of a laptop has an 8th Gen Intel Core i7 chip, Nvidia GeForce RT 2070 and 16GB of RAM with impressive clarity and great colors. This laptop has energy efficient back light, with 15.6″ full HD display and IPS technology for wide angle viewing.
Another cool feature about this awesome laptop is it's 16GB memory – great for gaming and multitasking.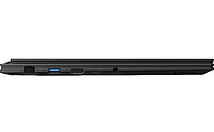 Thanks to it's high bandwidth DDR4 RAM that aids smooth running of heavy graphics, PC games and video – editing apps and opening numerous tabs at once! This laptop computer looks professional and doesn't weigh much.
Taking this laptop apart and putting it back together is easy and another RAM can be added! Now it can get a bit hot when gaming so it is advisable to put it on a newspaper or on the table. I won't advise you put this computer on your lap though.
Pros
Battery life: the battery life is not bad in the sense that when tested, I was able to use 3 hours for gaming and 4 hours for other minor tasks.
Clear screen: the screen is clear to the extent that I can see Keith Urban's face clearly on YouTube! No kidding here. Put it on YouTube and you'll see what I mean.
Thunderbolt port: this slim computer comes with a thunderbolt port and many USB ports; proving that it will surely last for a while!
Weight: this laptop is similar to a MacBook in terms of weight. It is thin, light and easy to carry around. You might want to check out my review on the latest Macbook Air in town!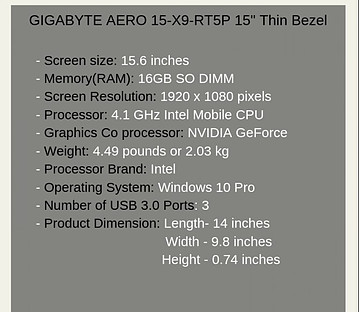 Cons:
Update: this computer may require some update to make it function even better. If you are thinking of purchasing this laptop, I highly recommend you update windows. You can go to the gigabyte website or simply go to a computer shop and they'll help you with the updates.
Battery Drain: on downloading the latest version of Nvidia driver, I noticed this drained the battery from 8 hours to 4 hours. I would therefore suggest you visit the gigabyte website and download what they have.
Caps: does not have light; which means you don't know when the caps are on or off. Well, this may just be a preference thing but with time one will get used to it.
Keyboard: the keyboard is not the greatest as some keystrokes may require more pressure a times.
Conclusion
|If you really need a powerful laptop that is also light, then go for this Gigabyte Aero computer, it really is worth the price tag attached to it. On the other hand, if you just need something for simple daily tasks, then you may just want to buy something cheaper.
For more information, here is a video on the Gigabyte Aero laptop below.
---
2. ASUS ROG Zephyrus S GX701 Gaming Laptop – Wide screen, High end gaming laptop, Unique looks
CPU: Intel Core i7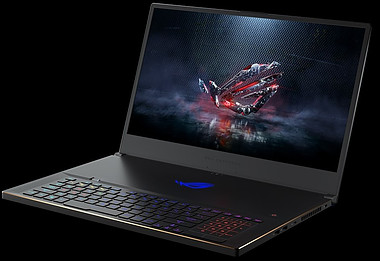 Graphics: Nvidia GeForce RTX 2080 8GB GDDR6 (base: 990 MHz, Boost: 1230 MHz; TDP: 90W)
RAM: 16GB
Screen: 17.3 inches
Operating System: Windows 10 Professional
Thickness: 0.74 inches
Storage: 1TB NVMe PCIe SSD (Hyper drive)
Price: ( amazon)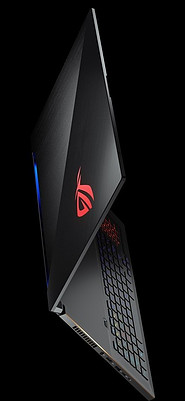 Pros: Incredibly thin, fantastic performance, meant to last very long, thanks to its anti dust technology, detachable webcam
Cons: Touchpad needs a bit of getting used to.
This laptop is super thin just like the first product we reviewed. The cool thing is that this portable laptop can fit easily in your backpack and you can take them on vacation or anywhere you want to go without any worries. It has fine metal finished chassis which gives it a nice look.
Now lets have a look at its features:
Above the keyboard towards your left-hand side, you would see a 'rolling wheel'. If the wheel turns red, then it means you are unmuted but once you press it down, this will mute the laptop. You can also scroll the wheel up or down to adjust the volume.
The power button is located on the right-hand side. The left side of this laptop has the features – an exhaust vent, power input, HDMI output, USB 3.1 type A port, USB type C port, a headphone jack while the right side has two 3.1 type A ports, USB 3.1 Type C port, exhaust vent and kensington lock.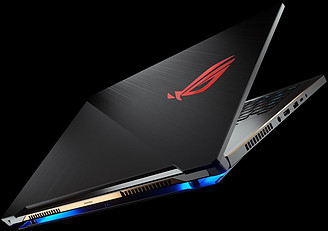 The back side also features air exhaust vents on the left and right-hand side, the front is smooth and it has a small indent so that you can use your finger to open the lid of the computer.
The ASUS ROG Zephyrus S GX701 gaming Laptop is prepared to take over the world with it's narrow 17 inch display and chassis which is only 18.7mm thin. You also get to experience ray tracing and enhanced graphics, thanks to the accuracy of its factory calibrated color accuracy by Pantone and up to GeForce RTX 2080. All of these bring this product to a whole new level.
The Asus ROG Zephyrus S GX701 really is one of the best gaming laptops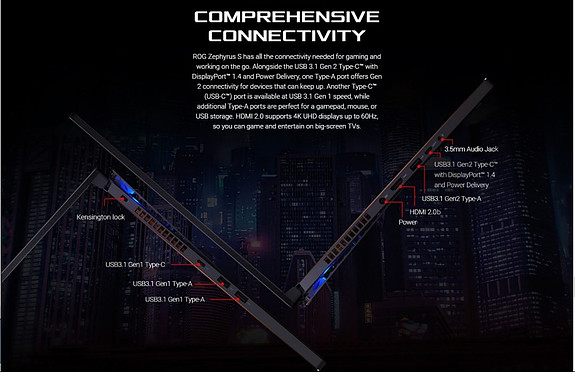 out there given it's level of performance and it's lightweight! If we look at it the other way, these incredible features makes this product come at a high price, although it is on sale on amazon at the moment.
Looking at this laptop what strikes me at first is it's slim nature given the fact that it's powerful! It is just proof that powerful gaming laptops don't have to be heavy before we know they are made for "gaming".
Pros:
Light: for its screen size, this laptop feels very light in the hand. Now, because this is a 17inch laptop you may need to use a mouse with it. Dusty environments are okay when it comes to this computer, it takes care of that; thanks to the fact that it comes with anti dust technology and 2 fans.
Keyboard: this laptop comes with a front keyboard, the keyboard feels really good compared to other traditional laptops, since the main purpose is for gaming. If this your first time, you would get used to the keyboard position in no time.
Monitor: the monitor is fantastic. Compared to the 15-inch monitors, the 17 inch makes the screen wide enough for gaming and it also means that you can easily do other tasks at the same time. Now, some people have complained about the back light bleeding but we did not experience any bleeding in this case.
One thing we noticed about this laptop is that it keeps cool. We tested games like fortnite, warship on this laptop and there was no problem. A little bit of warmth may be noticed but overall, it keeps cool without throttling.
Cons:
I found it a bit difficult getting used to the touch pad on the right-hand side, but if you are using a mouse, this really won't be a problem.
No thunderbolt 3 in such a pricey laptop. Thunderbolt 3 is the USB C that does wonders. With thunderbolt 3 gamers can connect external graphics to their device and enjoy their games.
Watch this video here for more information.
3. Dell G5 – Gaming Laptop under $1000
Graphics: NVIDIA GeForce GTX 1060
RAM: 8GB DDR4
Screen: 15.6 inch
Operating System: Windows 10
Weight: 6.28 pounds or 2.84 kg
Price: amazon.com
Based on our testing and research, we can say that this laptop is the best gaming laptop you can buy for just under $1000. Its weight of 6.28 pounds, coupled with thickness of 25 mm also makes it lightweight and compact; which means you can carry it around easily to work, school or even on vacation.
For optimum visibility, you would definitely enjoy this laptop's full back lighting. So when you are in a room that's not too bright, just keep on playing on your laptop! The keyboard has a good design of 1.44 millimetres of travel. Not bad at all right?
The touch pad though in my opinion is not properly centered and is quite small. This may not be a problem, as you may get used to it with time. I have used Acer laptops in the past and the touch pad were not centered but I still managed to get my work done with ease!
Features:
There is a USB 3.1 gen 1 port, a USB 3.0 thunderbolt port, USB 3.1 type C port, HDMI output and noble lock security slot. On your left-hand side, you have a 2 in 1 SD and micro SD reader along with the USB 3.1 type A port.
There's also a 3.9 Giga hertz Intel core i5 processor, along with 8GB of DDR4 memory. What's super cool about this laptop is it's 1920 x 1080 pixels screen resolution full HD display. I'm not saying it's the best in the market but it is still worth it for the price.

Fantastic features of this laptop include:
Noble lock security slot: this can be found on the right-hand side of this laptop. This gives you more privacy.
Backlit keyboard: this is one huge advantage for gamers.
Antiglare panels: this makes it easy to get the best viewing angle.
Pros:
Processor: I have to say that this processor is great too. The i5 processor it comes with is fast and great for present day gaming.
Display: the HD back lit display of this laptop is great and won't have you struggling to find great displaying angles especially when you are playing games or watching a movie.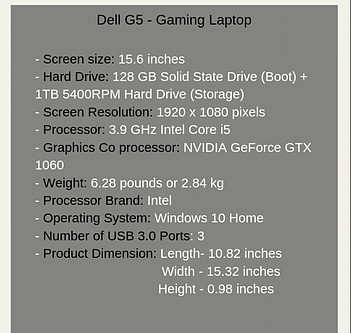 Keyboard: I have to say that this keyboard was designed really well. The keys are well spaced except that the touch pad is a bit small and not right in the center.
Cons:
Loud fan: The fans do get loud atimes. The noise may be noticed when the computer is idle.
Warm: this laptop may warm up but it does not get hot to the point that you can burn your fingers.
Looking for gaming laptop at an affordable price, then this is for you but if you are willing to pay more for something much better, then lets have a look at the next laptop.
4. Razer Blade 15 Gaming Laptop – Powerful, Portable and Fast
Screen size: 15.6 inches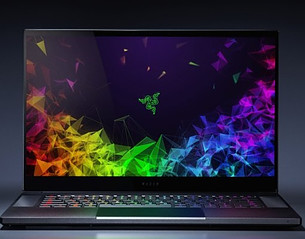 Weight: 4.63 pounds
Operating System: Windows 10
Processor: 4.1 GHz Intel Core i7
Price:  (on amazon)
This Razer blade laptop is sure to deliver a fantastic gaming experience for you and your friends.
Thanks to it's 4k display you get to enjoy vibrant, colorful and lifelike pictures.
With it's glass touch pad and amazing keyboard, this Razer laptop really is one of the best laptops out there.
The laptop comes with 16GB of dual – channel memory and It is also easy to expand since you can increase the system memory up to 64 GB. Also, the storage can be increased to 2TB if you need to.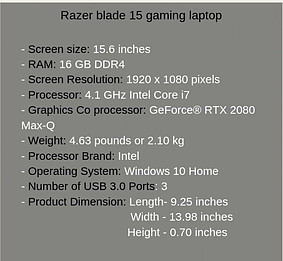 Powerful processor: You are also able to multi task easily, thanks to its core processor an 8th Gen Intel Core i7 – 8750H 6, with speeds way up to 4.1GHz.
Excellent performance: You don't have to worry about overheating with this computer since it comes with a vapor chamber cooling system and thermal materials which dissipates the heat in an efficient manner.
Green: this laptop was also manufactured from a block of Aluminum and CNC milled to it's exact size which translates to a tiny small carbon footprint. Did I mention that it is also incredibly thin at only 0.70 inches?
Touchpad: it has a smooth glass touch pad which in my opinion will give you peace of mind and a wonderful gaming experience!

The labeled features for this laptop computer are listed below:
1. Thunderbolt™ 3 (USB-C)
2. USB-A
3. HDMI 2.0b
4. Mini DisplayPort 1.4
5. Kensington Lock
6. Power
7. Gigabit Ethernet
8. 3.5mm Combo Audio
Pros
Okay already, I have said so many good things about this laptop. Let's have a look at more good stuff in detail:
Light: The weight of this computer gives it an edge among its competitors. Now I'm not saying that the Razer Blade is the lightest or thinnest laptop out there. The Acer Triton 500 weighs 4.41 pounds and the MSI GS65 Stealth Thin weighs 4.19 pounds and is also the thinnest at 0.69 inches. But given the specs and it's good quality build, the Razer laptop and it's weight at 4.63 pounds is still one of the top choices out there!
Play Multiple Games with Ease
Another thing I have noticed with this computer is it's ability to handle multiple games with ease. I played fortunate, mine craft, roblox and it handled it easily without the fans getting too noisy. If you have music playing in the ground, you may not notice or hear the sound. Now, you can increase the fan speed by configuring the fans. This should lower the heat. If you do not know how to do this, take your laptop to a computer shop and they'll be happy to help.
Touchpad is great: it is quite large, soft to the touch and excellent for media. Now, although I still prefer my MacBook Air,
pressing down on this touch pad does not give a clicking sound; rather what you feel is smooth and accurate movements.
Excellent for paper work: I know I said this laptop is great for gaming but it is also great for typing and other daily tasks.
Beautiful screen : you can stare at it for hours. I can guarantee that!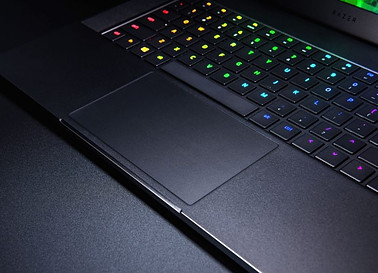 Presentable laptop: If you are looking for a great and presentable laptop that does not just look like a budget laptop, then this laptop is for you. Also, if you are looking for a laptop that does not have that "gaming" look yet classy, then this laptop could be for you. Take for instance when you are on your laptop in a coffee shop for instance, you want to look presentable and in my opinion you want to look professional with a presentable laptop and not one that screams "hey there, I'm a gamer!"
If you are looking for a very good laptop in 2019 with great specifications and excellent performance, then you may want to consider the Razer Blade 15 Gaming Laptop.
Cons:
Heat: This laptop gets warm sometimes, but really lets be frank here, this is a gaming laptop. Given it's slim and portable nature coupled with its specs it does get warm. Now I am sure that for those of us that have desktops, they do get hot. One good thing though is that when this laptop gets hot, it's hot on the outside – this indicates that heat is sent out. The heat is discharged through the top leaving the bottom to be cool.
Speakers: the speakers were not as loud as I would have expected it to be. When playing games like mortal combat, it would have been nice to be able to turn it up a little bit more.
————————————————————————————————–
5. Acer Predator Helios 300 Gaming Laptop – Good Gaming Laptop under $1,000
Acer Predator Helios 300 Gaming Laptop PC, 15.6″ FHD IPS w/ 144Hz Refresh, Intel i7-8750H, GTX 1060 6GB, 16GB DDR4, 256GB NVMe SSD, Aeroblade Metal Fans PH315-51-78NP
Weight: 5.51 pounds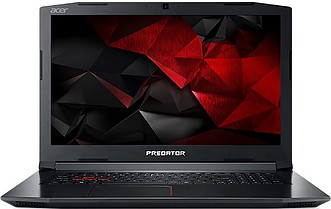 Price: $999.99 (on amazon)
Driven by the Nvidia GeForce GTX this laptop combines powerful 8th Gen Intel Core i7 processor with high performance NVIDIA GeForce GTX 1060 graphics. For a wonderful gaming experience, this laptop comes with two 3D fans and fantastic audio capabilities. Worried about striking the appropriate notes during game play, well you don't have to worry since this laptop also comes with iron red back lit keys.
Pros:
Screen: I have to say that this laptop delivers. It is affordable and it delivers smooth 2D motion scenes. Thanks to it's 144Hz IPS 1080p display. 1080p also gives full HD experience on this gaming laptop.
IPS display: IPS stands for In-plane switching. It is a screen technology for liquid – crystal displays.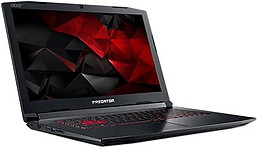 Did you know that IPS displays help with color production and wide viewing angles? IPS were used for graphic design back in the day. The predator sense control panel provides customization and the ability to control gaming features such as system temperature and fan speed.
Backlit keyboard: this laptop computer has a red back lit keyboard. Meaning you can always enjoy gaming literally anywhere; even if you are in a poorly lit room. The keyboard though looks like and feels just like a basic keyboard but it works well.
Cooling fans: this laptop also comes with metal aeroblade 3D fans for good air flow.
Hard Drive / RAM: the 256GB Solid State Drive and 16GB DDR4 hard drive and memory should help speed up booting and help games load faster on this laptop. We opened up a few tabs at the same time on the screen without any difficulty!
Cons:
Speakers: the speakers are not so powerful. They appear just fine but using headsets make them sound a lot better. You can consider using blue tooth speakers instead.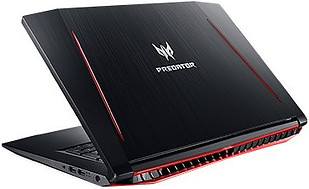 Casing: the casing though looks solid is made of metal, while some parts are made out of plastic. For some reasons, dust and dirt seem to stick very quickly on this computer so you may need to clean it regularly.
Battery life: one thing we noticed is the battery life for this computer. Unlike the 7 hours that you would expect it only gave about 4.5 hours while we experimented with playing fortnite. You are better of plugging it in if you plan on gaming for long hours. If this is not an issue, then I recommend this laptop and it is currently on sale on amazon for $999.99.
Warm: the laptop can get warm, especially near the WSAD keys.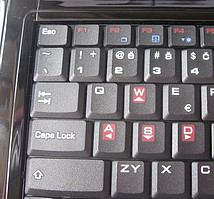 For those who do not know, the W, S, A, D keys on your computer are often used in place of the arrow keys because they give the gamer more access to more of the surrounding keys. This simply means the gamer can assign more keys to other tasks in a game. Turning on the cool boost feature can help cool it down.
Overheating: All gaming laptops will get hot. In fact most other laptops I considered buying were criticized heavily for getting too darn hot. The ones that weren't criticized for that were criticized for breaking at the hinges. I purchased this one because it was reviewed as being sturdy and cooler than other gaming laptops.
I didn't have any specific problems with this laptop, but others have suggested boosting the fan; if in a hardcore gaming session. Invest in a cooling pad. It should be very hard to overheat this laptop to the point of failure.
—————————————————————————-
Conclusion
After reading this post about the best gaming laptop computers, you are more informed now and ready to buy a gaming laptop. We've gone through the laptops that you can get for under $1000 and the highly rated laptops. Although we all have different tastes, I believe this post will help you find the laptop that suits you.
I hope you found this post helpful. You can check out awesome Black Friday sales here too. Please share your thoughts by leaving a comment below.