The New MacBook Air Review 2018
Product: Apple – MacBook Air – 13.3″ Retina Display – Intel Core i5 – 8GB Memory – 128GB Flash Storage (Latest Model)
Price: $999.99 (Amazon)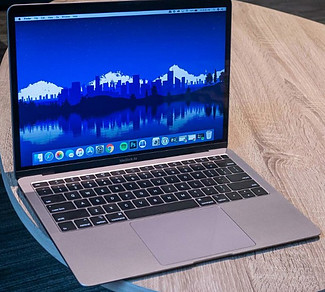 The Cheapest Place To Buy: Amazon.com
Warranty: 1 year
My rating: 9.5 out of 10
MacBook Air 2018 Product Overview – the Latest Model
The MacBook Air is an interesting laptop! Since Apple came out with MacBook, the trend has been on the high side and the love for Apple products will only keep increasing; all thanks to their easy to use operating system and sophisticated look. I have also taken time out to have a good look at a few other computer and gaming laptop brands and tested them just to see what features they have (more of this in a later post).
I promised to review the latest MacBook Air 2018 in my last post. Well, is it really worth it to buy the latest model of MacBook Air? For those who have older models 2013, 2015…it might be time for an upgrade!
Do you want to know why?
Here is one of the reasons why……this model is lighter than the 2017 model! I will elaborate on its mind blowing features in this post. The best price for MacBook Air can be found on Amazon.com if you are looking at buying.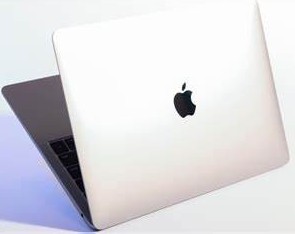 One great thing about the MacBook Air 2018 just like its 2017 counterpart is that it will let you do whatever you want to do; such as open 15 tabs all at once, even have apps running in the background at the same time and much more. Now it is important to point out that the 2018 model still comes at 13.3 inch screen just like the 2017 model which I think is still a good size. By the way who likes to carry around a heavy bulky laptop?
It is believed that the MacBook Air is good for school and work stuff, but I have to say that other than typing and storing a few files, we also use it for playing games like Roblox, Minecraft, Geometry Dash and we have not had problems.
Comparison between MacBook Air 2017 and 2018 models

 
Apple MacBook Air 13 inch with Retina Display (2018) – latest model
Apple MacBook Air (2017)
Weight
1.25kg or 2.75 pounds
1.35kg or 2.96 pounds
Storage
128 GB (can increase to 256 GB)
128 GB SSD
Touch Bar/ID
Touch ID
None
Battery life
Up to 12 hours
Same as the latest model
Processor
1.6GHz dual – core 8thGeneration Intel Core i5 processor with Turbo Boost
1.8GHz dual core 5thgeneration Intel Core i5
Display
13.3 inch, LED backlit Retina Display
13.3 inch, LED backlit widescreen Display
Did you know that the MacBook Air brand has been around the longest?
Yes, this is a fact! The MacBook Air has been around for a very long time out of Apple's laptop types and not only that, it is the most affordable of all Apple's current laptops.
The new MacBook Air 2018 laptop dimensions are 30.41cm x 21.24cm making it a little smaller than the previous model and the thickness has reduced by a few centimeters to 1.6cm when compared to the previous model. One thing I find interesting is that the wedge shape of the laptop has been reduced a little because the thinnest point has been increased by just a few centimeters to 0.41cm.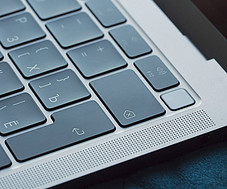 Apple also states that this laptop has a battery life of up to 12 hours.
In my opinion, this will vary from user to user as it depends on the applications you have on the MacBook Air. It is also normal that the battery capacity will lessen over time depending on how much time is spent on it and what you use it for.
——————————————————————————————————
Pros:
Now the pros are similar to the 2017 model I reviewed but this 2018 model has a little more to offer:
Retina: one improvement you would definitely notice and love about this 2018 model is the retina display with a resolution of 2560 x 1600 pixels. This makes the colors and picture quality very sharp. The display is a huge step when compared to older MacBook Air models.
Fingerprint lock: this is one cool function this laptop has and also a huge time saver. You can lock and unlock the screen with your finger without typing a password. You can use your fingerprint to unlock documents and settings without typing any password. That's fantastic isn't it? Hopefully someday Apple would upgrade this model to one  that will only use voice to lock and unlock the screen!.
Keyboard stability: the keyboard has a butterfly mechanism to it. The keys are designed such that they hinge in the middle and kind of looks like a butterfly; providing huge stability and comfort for you the user.
LED Backlit keys: this helps you type better in low light areas.
Lightweight: this laptop is lighter than the previous models as it weighs 2.75 pounds or 1.25kg.
Storage: This laptop comes with 8GB RAM (Random Access Memory). Let me help you break this down further.
For typing and minimal tasks 2GB is okay but if you're into graphic design or video editing 6GB or more is what you need. This makes the new MacBook Air worth it since it gives you 8GB memory. As for storage 128GB may or may not be enough depending on your daily tasks; but this really is no big deal as I have not had issues with this. You can also upgrade to a larger storage space if need be.
Viewing: no tilting here and there to view your screen. This has been improved in this model and that of 2017 as well.
Speakers: I find the speakers to be louder than other models which is a plus.
Powerful:
I have to say that although the laptop is lightweight, it is also powerful! Thanks to the eight generation Intel core i5 processor, you can complete your daily tasks with no hassles or worries. From typing to editing movies, operating several apps all at the same time and so much more.
Touch ID: the touch ID keeps our laptop secure and protects your fingerprint.
The touch ID also turns off your laptop when it is closed. The touch ID takes care of tasks such as audio processing and video encoding.

The Greenest Mac ever: this is the first Mac manufactured with 100% recycled Aluminum which equates to lower carbon emission. This means that there was no new mining from the earth required before this laptop was produced. I am really quite happy that Apple took the initiative to produce a product so green yet powerful.
Sometimes, there's that perception that if an item is made from recycled materials it won't be durable as that made from virgin materials. Apple has proved that notion to be wrong in this case.
———————————————————————————————————–
Cons:
Butterfly keyboard: Although, I mentioned this under pros, on the other hand this keyboard design needs a bit of getting used to. At first typing could be loud, but as you get used to it, the noise will reduce gradually and it should be okay.
Hard drive storage: If you are going to be storing a lot of files on this computer, you may have to upgrade the space to 256GB. Upgrading may cost a few hundreds. Another way to reduce cost for extra storage is to go for 3rd party external storage. Alternatively, instead of paying a couple of dollars for upgrade, you could add a few hundreds and purchase a MacBook Pro with more powerful processor, CPUs that range up to an Intel core i7 and PCle solid state storage.
No Touchscreen: you would have thought that this model which was long overdue would arrive with touchscreen; but no, this is not the case. I'm I bothered about that? No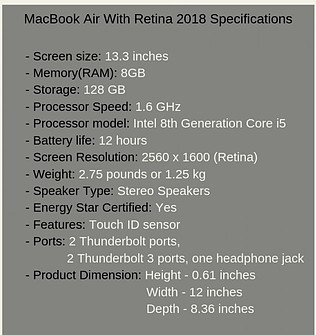 Processor: The processor is the brain of the computer and it works with the memory. Now, how powerful the processor is will determine how complex the software you can run on the MacBook Air will be. Most computers have either an Intel or AMD processor.
The processor in the new MacBook air is an Intel 8th Generation Core i5 Y series processor. Now, the Y series is something that you may not realize by mere looking up the specs on amazon, BestBuy or any tech website, but by doing a little of research you may be able to detect.
I have to say that you would get a processor of higher quality on MacBook Pro laptops. However, this may not be a big deal to you. The good news is that Apple did not just throw Y series processor into the new MacBook air but rather customized it and increased the thermal design power to 7 watts. Now I have to mention that this wattage is more than what you would get out of other laptops with similar processor.
MacBook Air – Yes or No?
———————————————————————————————————–
It is human nature to get super excited when it comes to buying something cool for ourselves; most especially when it comes to phones, computers and other tech gadgets. It is therefore important to make a quick list of the features we expect before making any purchase. Think about it – what kind of work will you be doing on your laptop? How much battery life?
Lastly affordability. Now one thing I would like to point out here is that you can get a Windows laptop for cheaper but the problem is that Windows laptops cannot run on Macs operating system! This is why people still go for the Mac laptops. We don't have to keep waiting now that the latest MacBook Air is in town! Thanks to Apple. Although, I have to say it took them quite a while to update the MacBook Air.
To be frank, if you feel you want to switch to Windows, there are Microsoft laptops that come at a cheaper price BUT we all want something reliable, sleek and modern isn't it? If you have an old Mac, this might be a good time to recycle that and purchase a new one.
Conclusion
Obviously, Apple put in a significant amount of upgrade and more sophistication in the MacBook Air 2018 and so I conclude by saying the new MacBook Air is faster and better than previous models. BestBuy usually carries this product and currently the best price for MacBook Air can be found on Amazon.com. 
I hope you enjoyed this review and if you have any questions about this MacBook Air 2018 or want to leave your own personal review, leave a comment below.