Product: MacBook Air Review – 13.3″ (Intel Core i5 1.8 GHz/ 128GB SSD/ 8GB RAM) (2017 Model)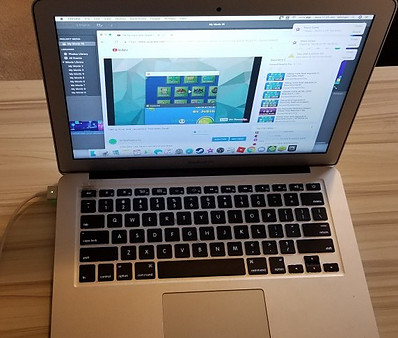 Price: $949.99 (Amazon), Bestbuy: $1,099.99
Cheapest Place To Buy: Amazon.com
Warranty: 1 year
My rating: 9 out of 10
Apple MacBook Air Review – Product Overview
———————————————————————————————————–
Many people often ask me for the name of the computer brand I use when live-streaming Geometry dash. Well I'll tell you this; it took me a while before deciding on which computer to buy because I had to do a bit of research to see which laptop would be good value for money.
It is no secret and I would love to share what I use right here with you.
The computer I use for live-streaming is the Macbook Air 2017 model. You may have tried googling best laptops for 2018 or top gaming laptop before arriving here, but I'll tell you that I am very happy with this computer. Hey! Its an Apple product after all. I not only use this for gaming but I also make use of it for my day to day tasks.
Why I love this MacBook Air Laptop
If you ask me right now why I like my MacBook, three things come to my mind:
Affordability, stability and ease of use are three major things I like about my MacBook Air and its no surprise that many people will opt for a Mac laptop over any other type of laptop. The ease of integrating a MacBook with an ipad or iphone makes this computer one of the best out there. it is also great for students
Now I have to mention that MacBook laptops are not cheap but this model which is the MacBook Air is the least expensive.
———————————————————————————————————–
Pros:
Affordability: Compared to other Mac laptops in terms of price, the MacBook Air is an affordable gaming laptop and not just for gaming but for everyday tasks. You still enjoy the full Mac experience. Nothing is compromised here and it is light in terms of weight. It runs Microsoft office including excel and word smoothly with no hassles!
Fast: It is fast and great for daily tasks. I not only use this for my youtube channel but I also make use of this computer for so many other tasks.
Body: The Macbook's aluminum body gives it a sophisticated look although this look dates back to models manufactured between 2005 and 2010. It is glaring now that other brands also have similar bodies as well.
Keyboard: The keyboard is sleek and you can type with ease. Typing is pleasant on this laptop. You can actually type so many words in a minute without your fingers hurting!
Battery: The battery works well. I don't have to charge it all the time. I charge it once a day or every other day and I'm good.
Battery life is fantastic! It is powerful and does every single thing I need it to do. In other words it is reliable.
It has meaningful ports including SD Slot card, USB, mini display port. This means you do not need any external adapters.
Power connector: The power connector is epic because it is magnetic! How cool!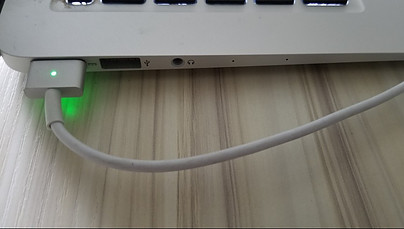 Durable body: The aluminum body protects the screen.
Screen stays in position, no drooping
Pictures: If you're the type that enjoys transferring pictures to your computer with the aid of SD cards, this laptop will do it for you because of its SD card slot.
Sharing feature is awesome and it is easy to transfer files from an old Macbook to a new one.
Cleaning it is a breeze!
Ease of cleaning is a big one for me as well and that's what I love about my Macbook Air. It is so easy to clean with a slightly wet or damp cloth due to its aluminum body design.
It really is as simple as that!
———————————————————————————————————–
Cons:
Same design this model has had for so many years.
Display: The screen is not as sharp as other mac laptops as I have noticed especially when watching videos. I have to say though that this is something you may not really notice.
The Macbook Air comes in different configurations.
It is easy to leave marks and scratches on the aluminum body design so you might want to purchase a sleeve most especially if you'll be carrying it around to preserve that sleek look.
More expensive than other brands: A drawback with this Apple brand is that it is more expensive than the Microsoft computers but you get what you pay for in this case because it is a Mac computer.
That said, for anyone looking to get into MacOs, the MacBook Air will be a great choice most especially if you don't want to break the bank!
Now Let's Have a Look at The Specifications Below!

Screen size: 13.3 inches
Screen Resolution: 1440 x 900
Weight: 2.96 pounds
Processor: 1.8GHz
RAM: 8GB
Storage: 128GB
USB: 2 USB 3 Ports
Power:
Battery Life: 12 hours
Battery capacity: 54wH
Type of Battery: lithium – polymer
Storage:
Drive Capacity: 256 GB
Size of RAM: 8GB
Processor Details:
Type: Intel Core i5 – 5th Generation
Cores: 2
Speed: 1.8Ghz
Cache: 3MB L3
Graphics: Intel HD Graphics 6000
Output & Input:
USB Ports USB – 3 2
Card Reader SDCX
Networking
Integrated Bluetooth: 4.2
Integrated Wi-Fi 802.11 ac
Keyboard Backlit: Yes
Warranty: 1 year
This MacBook Air laptop is Not Just For Gaming Though, Its for Everything!
Gaming,  Research,  Administrative work (typing, Office and Clerical purposes)  Homework and even suitable for Website Developers and everything you can think of! 
Conclusion
In conclusion, the MacBook Air rocks! I highly recommend that you pick your own MacBook air. You can buy from Bestbuy or if you are an online shopper like myself, Amazon has the best deals on this computer.
The latest news in town is that ….the new MacBook Air 2018 has just been released by Apple! I am going to test it out and carry out my research to see what it has that this MacBook Air 2017 does not have. So stay tuned!
I hope you like this review and if you have any questions, about the MacBook Air 13.3″ (Intel Core i5 1.8 GHz/ 128GB SSD/ 8GB RAM) (2017 Model) or want to leave your personal review, leave a comment below.