The Best Gaming Chairs for 2019.
Welcome! Some people say that gaming for long periods renders the person inactive. I don't completely agree with this and here is why – Imagine yourself playing Apex legends; your fingers are moving and you may not even be sitting properly when gaming just because you are nervous and are trying so hard to make sure you do not get defeated by your opponent. This just shows that somehow, you are still kind of moving while enjoying that game…well, that's just my 2 cents.
You might not be moving that much whilst in your chair, but at least you are still kind of moving and you want to do this in a great gaming chair that will support your body posture. Now we will look at the best 5 gaming chairs in this post but first what type of gaming chair suits you?
What Type Of Gaming Chair Is Good For You?
Now, you probably have a nice gaming computer and a great gaming headset and you're now looking for the best gaming chair out there. Whether you enjoy gaming full – time or just for relaxation, the type of chair you sit in is very important.
Now for gaming, I would suggest one that supports the neck, back and of course one that supports your head. In essence, you need a chair that would be super comfy!
These days, there are sophisticated gaming chairs available and you would be surprised that for a few hundreds of dollars or even less you can actually buy a great gaming chair that will suit your needs.
There are great ergonomic gaming chairs out there that give you additional support for your neck, spine and feet! Yes, there are gaming chairs that can recline up to 180 degrees – the lie flat position! Sounds cool right?
There are also gaming chairs that serve multiple functions. These are the ones we like, because they serve many purposes! They can be used as a chair in the kitchen, for a quick nap in your living room, as an office chair and for gaming.
We carried out a lot of research and based on this, we've put together a list of the best gaming chairs for 2019 in this post.
Here are The Best Gaming Chairs for 2019:
1. VERTAGEAR S-Line SL2000 Gaming Chair White/Black Edition
Item weight: 51 pounds
Dimensions: 23 x 22 x 52 inches
Maximum load: 330 pounds
Colors: this chair comes in about 13 different colors so you would definitely find one that suits you including white/black as shown above, black/blue, black/green, black/pin, white/blue, white/red, white/green
Pros: simple to assemble, adjustable armrests, strong metal frame, sleek design, lumbar and neck support
Cons: Assemble this chair where you need it. Carrying it up a flight of stairs after you put the parts together may not be easy. This typically goes for most gaming chairs out there.
Warranty: this is broken down into the following:
Gas Lift: 2 years
Five star base: 2 years
Metal Structure Frame: 10 years
Wheels: 2 years
Arm rest: 2 years
Seat mechanism: 2 years
Headres/Lumbar support pillows: 2 years
This Vertagear SLine SL2000chair is comfortable and very functional at the same time.
FEATURES:
This chair has great features including:
The Slide in Design: which enables just one person complete the installation process as quickly as possible.
Premium High Foam/ Frame: the foam is similar to memory foam. The lifespan of the chair is prolonged; thanks to the high quality foam and steel frame. The foam makes it comfortabl
PUC leather: gives this chair this sophisticated look and at the same time you can maintain the look over a long period.
Class 4 Gas Lift: maintains the seat at the right height and makes it durable.
Backrest: the back rest can be adjusted up to 140 degrees.
Seat base: there's sufficient room for sitting comfortably
Lumbar / Neck support: the support gives your chair that extra padding. The cushions can be removed easily.
Adjustable Tilt: in this case, you can turn the knob easily to match your body weight and you can rock the chair comfortably without pushing it thereby reducing muscle pain. You can adjust the height of the chair to one that suits you.
Adjustable armrests: these armrests have been designed ergonomically to resemble the shape of your arm, the height can be adjusted and is well cushioned meaning there will be huge relief to your muscles and no pressure to your wrist. You can choose to put the arm rest either up or down.
Penta 2.5 in casters: these are covered in polyurethane (PU) for smooth and easy gliding across the floor
If you are looking for the best chair to sit in for long periods, whether for gaming or even for office needs, then this one is for you.
The manufacturers of the Vertagear brand see themselves as the leader in the best gaming chairs. It is no surprise though because people are saying great things about them here. They even created a video to help you when installing the chair. You can check it out below:
——————————————————————————————————————–
2. AKRacing Masters Series Max Gaming Chair
Price: $429
Load capacity (maximum weight): 400 pound
Warranty: 5 to 10 years
Pros: removable 4D armrests, wide additional space for relaxed seating
Cons: may fill a bit more roomy for someone with a smaller body build; expensive
Meets/Exceeds ANSI/BIFMA Standards: Yes
FEATURES: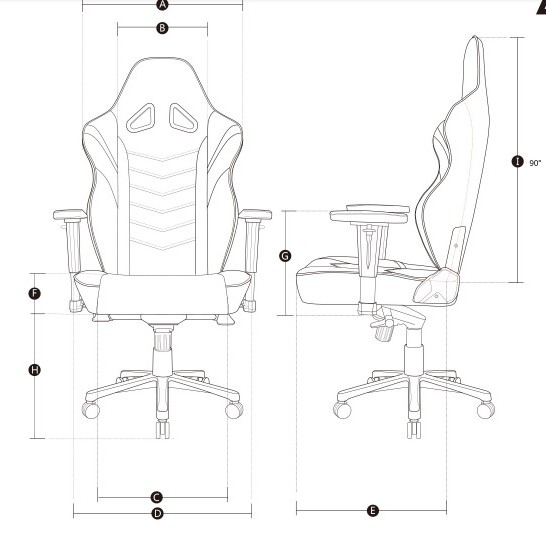 A: 24.4in
B: 13.9in
C: 15.3in
D: 23in
E: 20.3in
F: 4.7in
G: 11.6-14.4in
H: 14.9-17.4in
I: 34.2in

Material: the chair is made of all – metal frame, aluminum base, large 2.5inches canisters, high quality leather upholstery that's easy to clean, head rest that can be adjusted to suit you, cold – cure foam padding, lumbar support pillows for comfortable seating. It is made from high density mould shaping foam. – foam density of the seat is 55kg/m³ while that of the back is 50kg/m³.
The Quality of the Chair – pillows, arms, wheels is great and it sure does look and feels like a sophisticated chair. The bottom part of the chair is comfortable and you are able to enjoy long gaming sessions without any problems. The Pleather cover on front and back of the chair makes it feel good on the skin.
4D adjustable armrests: one cool feature this chair has is that the armrests can be adjusted in 4 ways; rotate to sides, in and out, up and down, back and forth.

Seat adjustment: You can adjust the seat however you want; so if you want your feet touching the floor while gaming or if you want it dangling it really is up to you.
Made for tall and big – has a wider frame and a 400 pound weight limit. You can lock this chair in any tilt position you so wish, thanks to its rock and lock mechanism. Also it is important to point out that the hydraulic gas lift is quite heavy so when installing it, you want to do this carefully to avoid injury.
NOTE: When reclining, to the full 180 degrees, which is the flat position, it is important to make sure that the rocking function is disabled to guarantee stability.
This stylish, stable and strong chair is ideal for bigger people. Also, because it is flatter than most racing chairs you don't feel squashed in this chair. The sit is deep and flat; meaning the risk of falling out is low.
—————————————————————————————————————————-
3. DESINO Gaming Chair Racing Style Home & Office Ergonomic Swivel Rolling Computer Chair with Headrest and Adjustable Lumbar Support
Dimensions: 33.5 x 25.6 x 11 inches
Colors: It comes in 3 awesome colors – black, black / red, black/ white
Pros: Inexpensive, Great quality, Excellent customer service, Sturdy, Ergonomic, Good value for money
Cons: This chair is sturdy because the frame work is alloy and steel which makes it a bit heavy.
Maximum capacity: up to 300 pounds
Warranty: Free exchange of installation problems, damage and missing pars within 1 year.
Three major characteristics define this gaming chair – multi functional, high quality material, comfort, money back guarantee.
Serves different purposes – The Desino gaming chair is great for the gaming, home use, and office at the same time. The cool thing here is that you can adjust the back rest within a safety angle of between 90 degrees and 135 degrees making it suitable for your needs. Whether you want to get some work done, or you want to play video games or you simply want to rest or take a nap you can't go wrong with this gaming chair.
Construction – the ergonomic design of this chair shows that safety was put into consideration during the design of this chair. In order to protect the neck and spine, you can adjust the headrest pillow and lumbar support of this gaming chair. Neck and lumbar support also come with the pillows which is awesome.
Padding: The lumbar cushion, seat, head and backrest have great padding that make the chair ergonomic and super comfortable these features prevent fatigue especially when you sit in it for long periods. What makes this a top gaming chair for 2019 among other great things is that the seats can be adjusted coupled with thick padded seat cushions!
Quality: this chair is made from high quality materials – thick steel frame, quality leather, class 3 gas lift and smooth rolling casters. All of these are verified by BIFMA. BIFMA represents the commercial furniture industry and is the association for business furniture manufacturers.
Peace of Mind: If you are not satisfied with this product you get your money back within 30 days or the chair can be replaced for free. They also have a customer service that operates 24hours.
Arm rest: the heights are just perfect! It comes with rubber finished wheels which definitely are a lot quieter than the plastic ones and to top it all they won't leave scratches on your floor – especially if you have a wooden one! It is worth investing given all these great features that way you can enjoy doing what you love be it gaming or work. Have a look at what real people are saying here.
——————————————————————————————————————–
4. Homall Gaming Chair Office Chair High Back Computer Chair PU Leather Desk Chair PC Racing Executive Ergonomic Adjustable Swivel Task Chair with Headrest and Lumbar Support
Dimension: Size of Back: 22.5″X30.5″(LXW),Size of Seat: 19.8″X20.5″(LXW)
Seat adjustable height:17.3-21.5 inch, chair with tall back
Load capacity (maximum weight): 300 pounds
Pros: adjustable with great padding for comfort
Cons: The arm rests are not adjustable, which is not a big deal because they are designed to be at a comfortable height suitable for anyone. The chair is heavy although this makes it even more stable.
Warranty: the manufacturer will gladly do an exchange or refund your money if you are not satisfied with your purchase within a month. The warranty also covers missing parts or damage parts within a year.
Material: Leather, gentle on the skin, sturdy. It is made from shaping foam with high density, very comfortable.
FEATURES
Multiple functions – This chair has a "recline" feature. When you adjust the knob chair underneath the chair, it actually rocks back and forth! It also has 360 degree swivel and wheels that can move in different directions. Great suspension, not compressed by weight.
Configuration: the configuration of this chair has been upgraded to class – 3 gas lift which is verified by SGS a company that provides verification, certification and testing services. When you move the chair, it rolls quietly thanks to its rubber casters and this chair has also been tested to 1000 miles long.
Padding: great padding that supports the body frame and prevents the back from getting sore due to sitting for long periods. The shape of this seat is super comfortable.
Adjustable: you can easily adjust the lumbar and head support.
Levers: when you lean back in this comfortable chair, you can easily tell when it is locked in place. You can lay completely flat without the fear of breaking the chair. This shows that the chair is well-balanced.
Tip: ensure you tighten both sides before you tighten the screws and this will make the chair firm enough.
This is a good gaming chair but not as great but with the price you would be happy with it. You may need a break – in period before it feels good, and once you get past that period it should last long. If you're looking for a gaming chair that is not too pricey, then you can go for this.
—————————————————————————————————————————————–
5. DESINO Gaming Chair Racing Style High Back Computer Chair Swivel Ergonomic Executive Office Leather Chair with Footrest
Price: $84.99
Dimension of product: 33.5 x 25.6 x 11 inches
Sitting height: 17.7-20.9 inch
Backrest dimension: 22.5″ x 30.5″(L x W)
Weight: the chair weighs 48 pounds and supports up to 300 pounds weight
Warranty: Free exchange regarding installation problems, damage and missing parts within 1 year
Pro: reclines and comes with foot rest
Easy to set up: this gaming chair comes with instruction and it makes the installation process straightforward.
FEATURES:
Material: the chair is made with steel frame, high quality PU leather, smooth rolling coasters and these qualities are all BIFMA verified.
Footrest: this chair is great for someone who has busy work days and enjoys gaming for long periods; you can easily have a quick nap on the chair by pulling out and flipping over the footrest just like you would in your bed.
Design: this chair is multi functional and suits all body type; thanks to its ergonomic design. Worry no more about back pain because this chair will relieve pressure. It is padded and has great lumbar support giving you the peace of mind you deserve.
Reclines: Reclines from 90 degrees to 180 degrees. The chair is comfortable and you can let the chair lie all the way back, lie down and rest your feet.
—————————————————————————————————————————————-
Conclusion
You need a chair that is really good in order to protect your back and body posture in general. An office chair may not work as a gaming chair especially if you enjoy long gaming sessions. Standard office chairs can result in body pains and numbness so ensure you pick your own gaming chair from this post.
That's our list of the best gaming chairs for 2019. What gaming chair appeals to you from our list or do you happen to know someone who has a gaming chair or needs one? Share your thoughts below.