Beyblade Burst Guide for Beginners and Parents
As I mentioned in a previous post, we enjoy Beyblading! No doubt, we're huge fans!
If you are not sure how to play with Beyblades or you are simply wondering what Beyblades are, you have come to the right place. In this Beyblade guide, you will learn everything you need to know about Beyblades and how to start playing with them.
Beyblades are also referred to as Beys. There's never been a better time than now to start playing with Beyblades and now is a really good time for parents and kids to learn what Beyblades are and how to play with Beyblades!
One thing is sure – Beyblading limits the amount of time spent on screen! Just like how you enjoy board games like Chess, Ludo or Monopoly!
Another cool thing with Beyblades is that you can play with the sophisticated spinning tops offline by simply having battles with friends and family or online by scanning the Beyblade Burst app on the spinning top and there are also Beyblade shows you can enjoy as a family on Netflix! Sounds fantastic right?
I wrote a post 2 years ago about Beyblades, but this Beyblade Burst guide is packed with more information and videos that will also help you. Okay so what exactly are Beyblades? Let's proceed…
What are Beyblades?
Launched in Japan by manufacturer Takara Tomy in 1999, Beyblades are sophisticated spinning tops that were originally inspired by traditional Beigoma spinning tops in Japan. Shortly after Hasbro, an American manufacturer started manufacturing Beyblades too. These colorful tops come in different shapes and sizes.
They are also made up of 3 or 4 different parts which means they have to be manually assembled and this is very easy to do!
What is Beyblade Burst?
Beyblade Burst is the latest generation of Beyblades. These set of Beyblades were launched after the Metal series (Metal Fusion, Metal Masters, Metal Fury and Shogun Steel). 
Now, the "burst" system is designed in such a way that if it sustains a lot of hits, the parts may separate and I believe this adds more to the fun!
The Beyblade Burst parts are composed of plastic and metal parts. Connect all parts together and you have a Beyblade like this one below called Turbo Spriggan!
Note that every Beyblade moves in a unique way… and Beyblades can be launched in many ways. You can launch them clockwise or counterclockwise but…it is important to point out that some Beys can even go both ways….. that means they can spin left and right!
Beyblades Can be Customized
It is important to point out that if you have two or more Beyblades, you can customize them however you want by mixing and matching the parts to create your very own unique Beyblade; most especially if you have the Beyblade Burst types.
The performance tips, forge discs combined with the beyblade burst energy layers enable you to build your very own Beyblade burst top and you can customize it however you want. In fact, the more Beyblade Burst collection you have, the more you would be able to customize them! There are so many combinations, in fact over thousands of combinations so you can really get creative customizing Beyblades!
Just like we have done in the image below, you can mix and match Beyblades however you want.
In the image above, we combined a Blast Genius top, a metal Spryzen and Kerbeus performance tip to form a unique Beyblade!
Note that Blast Genius, Spryzen and Kerbeus are all names of Beyblade Burst Toys!
Beyblade Burst Components
The very first thing to note is that Beyblades are made up of the following parts. Ensure you have all these parts intact before you start playing!
Energy Layer: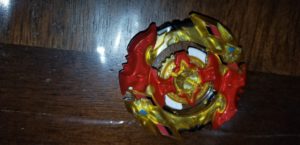 The top part is referred to as the energy layer and is the most visible part of the Beyblade. It is also the part that makes a lot of contact with other beyblades when battling. This part also has great abilities and comes in different colors and shapes.
Forge Disk: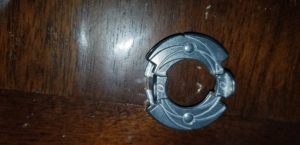 The forge disk is the metal part that sits just below the energy layer. Due to their nature, the metal part adds more weight to Beyblades.
Performance Tip: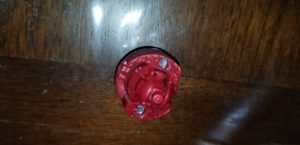 How a Beyblade moves is determined by the performance tip. Some Beyblades are great defenders while some are known for great attacks! More on this later.
How to assemble a Beyblade
Putting Beyblade parts is easy and straightforward. Have a look at this short video we put together to help you.
Where to Buy Beyblades
You can catch the Beyblade Burst series on Netflix but if you really want to get serious and start playing right in your own home, a great place to check in order to buy Beyblades is Amazon, because they carry a wide variety. I have been to Toys r Us and Walmart to look for Beyblades a few times and its like they never have the exact one I'm looking for but Amazon has never disappointed me…at least so far and they also deliver on time!
Beyblade toy models will continue to grow and evolve. Beyblade battles have also been taken to the next level where there are championships in cities around the world just like the Beyblade Championship 2018 that took place at Kidexpo in Paris, France! Sounds interesting, right?
Major Brands of Beyblades
There are two major brands of Beyblades. They are:
1. Hasbro : American brand
2. Takara Tomy: Japanese brand
For every Beyblade, there is a Japanese brand and an American brand. For example, for a Turbo Spriggan (Takara Tomy Japanese brand) Beyblade, there is a Spryzen (Hasbro American brand) Beyblade as shown in the image below.
These are the fifth generation of Beyblades – meaning that they evolved four times from their base form. Let's take a look at the similarities and differences between Turbo Spriggan and Spryzen S5.
Now let me explain what I mean by 5th generation to you. The exciting part of Beyblades is that Beyblade Burst comes in generations and each generation is way better and more improved than the last!
Generations are usually represented by numbers 1, 2, 3, 4, 5 with number 5 being the latest. For example, in a Hasbro Beyblade, the format for a Spryzen Beyblade goes like this – Spryzen S1, Spryzen S2, Spryzen S3, Spryzen S4, Spryzen S5. Note that Spryzen S5 is shown in the image above!
Similarities between Turbo Spriggan and Spryzen S5 Beyblades
Here is Turbo Spriggan Beyblade and its parts below.
Here is Spryzen S5 Beyblade and its parts below.
See how these 2 Beyblades look alike? Yet a little different? They pretty much look alike but are manufactured by 2 different companies – Takara Tomy and Hasbro!
Similarities between Turbo Spriggan and Spryzen S5
1. Looking at these two Beyblades, you can see that they look very much alike with the yellow and red colors beautifying the top of the Beys.
2. Both of their performance tips can switch between three modes – attack, defense and stamina. Note that not all Beyblades can do these three modes.
3. They both have four parts – the energy layer, the forge disk, the frames and the performance tips.
4. Both beyblades spin clockwise and counterclockwise.
Differences between Turbo Spriggan and Spryzen S5
1. Their performance tips and frames have different colors.
2. Spriggan Performance tip and frame is blue.
3. Spryzen S5 – the performance tip is red and the frame is black.
4. Spryzen has the scan code at the bottom of the energy layer while Spriggan has the scan code on its box or packaging.
.5. They both come with different launchers.
Types of Beyblade Burst Top Energy Levels:
I explained these types in an earlier post but if you missed it, I'll give a more detailed explanation now.
There are 4 types of Beyblade Burst energy tops.
Attack Type: These top types tend to be very light. They are also known as striker Beyblades and are known for attacking other Beyblades. They try to defeat their opponent at a fast pace. Attack type Beyblades tend to defeat Stamina type Beyblades because the latter are defenseless. They have a disadvantage against defense types because attack type beyblades have difficulty attacking defense types.
Defense Type: They tend to be very heavy. These types of Beyblades are usually heavier and hence move slowly. Also called Defenders, Defense types usually defeat attack type Beyblades but are usually defeated by stamina types. This is because the stamina types usually barely ever hit the defense types. Note that defense types don't spin forever!
Stamina Type: Their weight is Medium. These type of Beyblades can spin the longest out of all the other types of Beyblades. Also known as endurance Beyblades they usually can out spin and win against defense type Beyblades. Stamina type beyblades can't usually win against attack types because stamina types are defenseless as mentioned in the Attack type explanation above.
Balance Type: Their weight can be any! Balance type Beyblades are a combination of stamina, defense and attack which makes this category strong, complete and ready to win battles! On very rare occasions though, a balance type Beyblade may only have two of the mentioned stats. However, if they share 3 stats then each one would only be 33% as strong as if it only had one stat.
Watch this 4 second animation below that shows the Spryzen S5 performance tip changing from Attack to Defense to Stamina modes. Not all performance tips have different modes like this one though.
Beyblade Burst Battle Rules
As a serious beyblader, it is important to know the rules. There are 3 winning possibilities when beybladers launch their Beys into the stadium.
a. Burst finish – this occurs when you make your opponent's Beyblade burst. You earn 2 points for this
b. Ring Out finish – this happens when you knock your opponent's Beyblade into a stadium pocket. You earn 1 point for this.
c. Survivor Finish – happens when your Beyblade keeps spinning even when your opponent's Beyblade has stopped or if you Beyblade stops spinning after that of your opponent's has stopped. You earn 1 point.
The first player to get to 3 points is the winner!
What do you Need to Play with Beyblades?
Now, how exactly do you play with Beyblades? Before you start battling, you need to ensure you are equipped with everything you need. Here are the basic things you need to start:
1. Beyblade:
First you need a few Beyblades to start with; you can also have a look at the best Beyblades out there and decide on which ones you like.
2. Beyblade Stadium
What's a Beyblade without a stadium? Its like having bread without butter or jam! A Beyblade stadium also known as a Beystadium is the arena or a container where Beyblade battles take place. Simply put it is the battle arena for beyblading!
Stadiums usually have pockets that trap Beyblades when players are battling. Beyblades may get knocked into one of the pockets. Both brands – Takara Tomy and Hasbro produce Bey stadiums. Some stadiums are sold individually while others come with a complete set of Beyblades just like the one above that comes with 2 sets of Beyblades! If you don't have a stadium and you're also looking into buying Beyblades, then I recommend buying a Stadium that comes with Beyblades like the one above or something like this.
3. Launcher and Ripcord
So here's how this works. You put the rip cord into the launcher and attach the Beyblade to the bottom of the combination of the rip cord and launcher. Then you pull the rip cord out of the launcher over the stadium to launch the Beyblade.
Here is Beyblade Burst Evolution SwitchStrike Starter Pack Caynox C3, a great starter pack with wonderful reviews.
It is believed that this Hasbro's version of Caynox C3 appears to have a stronger burst to resistance compared to the Takara Tomy's version – the Beyblade Burst B98 Deep Chaos.
How to Launch a Beyblade
Below is another video we uploaded on our you tube channel that shows you how to launch a Beyblade especially if you have the Beyblade Burst Master Kit. There are also several Beyblade videos on our youtube channel that will help you.
Beyblade Burst Master Kit Video
If you have a Beyblade Burst Master kit, here is a very short video on how to Play with the Beyblade Burst Master kit Playset which we put together to help you.
Beyblade Burst App – Take your Beyblading Online!
Online Beyblading is a thing! Beyblading can be done online as well if this is something you would like to try! The Beyblade Burst App simply refers to Beyblading online, by this I mean beyblading on your own personal device!
First thing to do is scan the code on any Beyblade top. This will unlock the digital product in the Beyblade Burst App. You can then customize your Beyblade tops, build your strategy and check your stats!
Check out our video of scanning Spryzen with the Beyblade Burst app video below. It will help you understand what the app looks like and how it works!
Gamers Planet – Scanning Spryzen – Beyblade Burst app
Benefits of Beyblading
Beyblade battles lay emphasis on team work, practice and persistence.
It also means less time on screen.
Kids and adults can compete in teams or as individuals.
You can also take Beyblading online if you wish.
Beyblading teaches kids Science: whether your kids are playing with a stamina type Beyblade or an attack type or even a defense type Bey, kids learn about matter and how energy works! Remember, matter is anything that has mass and occupies space!
Beyblade Tournaments
Take your love for Beyblade a step further by participating in a Beyblade Tournament.
Yes Beyblade tournaments are a thing! They take place regularly. Did you know that local Beyblade battles are also hosted by the popular Toy giant, Toys r Us? There's also the World Beyblade Tournament website where you can go, to check out upcoming tournaments. Feel free to check out tournaments you can participate in.
Conclusion
Beyblades have been around for a very long time and are still popular. It is obvious they are not going away anytime soon. Now is a great time to get into Beyblading and before you know it, you already have a nice collection!
I have also written a review about a popular beyblade that is great for younger kids, big kids and even adults. You can have a read to learn more.
Beyblades are still very popular and are fun to play with. I find it brings siblings, friends and family together. Beyblading can be done anywhere – right in your home, the park, or you can even have a Beyblade themed birthday party!
Now I always encourage beybladers not to throw out their toys. If you feel you have more than enough, give some to another person who needs it! This way we can reduce waste.
Have fun playing with Beyblades and please leave a comment below if this Beyblade Burst Guide has been helpful. Thank you.