The spookiest day of all is very near and the best Halloween board games are a great way to celebrate this wonderful day! Houses will soon be decorated with skeletons, ghosts and of course pumpkins while kids likewise some adults will dress up in their lovely costumes on 31st October, the wonderful Halloween day.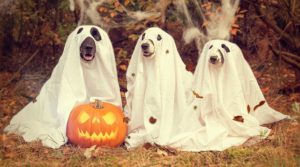 Image credit:Image by nancy sticke from Pixabay
Kids will also be looking forward to yummy treats they'll be collecting in their trick or treat bags. I bet adults look forward to those treats too!
Even on the television Halloween programs will start showing soon. Not too long ago, Food Network was advertising that their Halloween baking championship would be showing soon!
Halloween is also a special time for the family to come together and listen to spooky Halloween stories by parents. Families can decide to read a spooky book or 2 and also have fun playing some Halloween games together!
I have put together an awesome list of Halloween board games that are spooktacular! In fact by the time you look at every single one of these board games you would agree that these are the best board games not just for Halloween but for every season!
I have arranged these toys by age starting with the youngest! Hopefully you can find a game that will help you celebrate with your kids and family. Have a wonderful Halloween!
10 Best Halloween Board Games
1. Scooby-Doo! Fright at the Fun Park
Ages: 4+
Players: 2 to 8 players can play at a time
This game includes 1 game board, 25 mystery cards, 36 ticket cards, 1 mystery decoder, 1 die, 4 mini erasable maps, 4 markers and 5 character movers.
The aim here is to help Mystery Inc save the fun park from a ghoul. You would need to use the cards to find your way around in order to locate the ghoul. While moving around use the decoder to reveal the ghoul's hiding place. Now if you can figure out where this demon like, monstrous being is hiding, you are declared the winner!
2. Vampires of the Night
Ages: 6 and up
Players: Great for 2 to 4 players
One of our favorite board games, this awesome 3 dimensional game board can be played in the dark! You know why? Some pieces actually glow in the dark! What a wonderful way to enjoy a spooktacular holiday!
To assemble the board ensure that the board that lies at the top of the corner pieces is rotated correctly so it fits properly. Now once the board is all set up, be patient and maneuver the vampire around; but try not to knock garlic into the dungeon where the little vampires are sleeping!
3. Shaky Manor Family Game
Ages: 7 and up
Players: 2 to 4 players
Another game we love is Shaky Manor also known as panic mansion. This is a different kind of game but a cool one at the same time. The aim is to shake and tilt the boxes in order to move the objects into the right rooms! This board game comes with creatures like snakes, treasures, spiders and of course ghosts!
4. Ravensburger Labyrinth Family Board

Players: 2 to 4 players

Age: 7 years and up
This is a very popular Halloween board game families enjoy over the holidays! It is also very engaging and challenging for young kids. The goal is to find the shortest route through Labyrinth to win! You also need to reach all your targets and treasures while moving through the Labyrinth. No wonder this board game has great reviews!
This game comes in a beautiful box a shown in the image above. When you open the box, you notice that the pawns, cards and tiles are neatly arranged in compartments. The tiles are made out of hard/durable cardboard and not plastic which is great! The pawns are beautifully made into different figures and in different colors.
This board game also comes with easy to understand instructions so that you can start playing immediately.
5. One Night Ultimate Werewolf
Ages: 8 and up
Players: Great for 3 to 10 players
The wonderful thing about this board game is that every player gets a unique role. You can choose to be Seer, a werewolf and so on. The goal is to find the Werewolf! This game also has an ios and android app. Guess what? The app is free! I have to say the app,makes this game even more engaging. For even greater battles, feel free to combine the board game with One Night Ultimate Vampire and One Night Ultimate Werewolf Daybreak.
No two or three games end up being the same because there are also so many combinations of cards that can be used!
Great for the whole family!
6. Zoch Verlag Ghost Blitz Board Game
Age: 8 years and up
Players: Great for 2 to 8 players
This is a great dexterity game for kids and even adults. The aim is to race to catch the correct wooden piece. Players know which piece to grab by using color recognition, shape and pattern. This board game can also be combined with Ghost Blitz 2 to make it more challenging!
7. Disney Villainous Strategy Board Game
Age: 10+
Players: 2 to 6 players at a time
This game is great for any game night and will also make a wonderful gift. Classic strategy gamers will also enjoy playing this game. No wonder this board game won the prestigious 'Game of the Year' Award at the 2019 Toy Of The Year Awards!
This board game comes with 6 Disney Villains – Prince John, Maleficent, Ursula, Queen of Hearts, Captain Hook and Jafar. Other iconic characters like Peter Pan, Ariel and Aladdin are also featured on the fate decks!
The board game comes with clear instructions and a clear guide for the 6 villains. The guide will help you craft great strategies to win!
Disney Villainous is compatible with other games in the Villainous line including Perfectly Wretched, Wicked to the Core and Evil Comes Prepared. This simply means you can play the game as a standalone game or with these other games I mentioned.
8. Pandemic
Age: 13 to 15 years of age
Players: 2 to 4
This game features a team dynamic which makes it one of the best games we've played so far. Now what you have to do here is to protect the world and keep it safe from epidemics! Players have to work together to treat infections worldwide. Yes! Teamwork is involved which is another reason why I love this game. The players have to cure and contain diseases around the world.
9. Grind House
Age: 14+
Players: Great for 2 to 6 players
Grind House is a horror game where you try to survive in a decaying mansion with other strangers. Survival is the main goal in this game with each player having a secret motive. Now if a player perishes in the mansion, they still have another shot since they can come back as ghosts to haunt the survivors while they try to make it through the Grind House unharmed.
10. Dead Sprint
Age: 14 years+
Players: 2 to 5 players at a time
In this game you have to do all it takes to win. Dead sprint is a fast paced and horror board game. There are lots of zombies! Players will come across ankle biting crawlers, giant Brutes and even ready to pop Sploders! As a player you need to use your cards to play well. Be strategic whatever decision you make and you might just win!
Conclusion
Hope you like our list of the best Halloween Board Games. Halloween is a wonderful time of the year! We are all in high spirits, with homes decorated and you can make it special by playing a board game or 2 with your family. Happy trick or treating but most importantly, be safe!
Are you looking forward to playing fun Halloween games? Leave your comments below.
Articles you should check out:
11 Best Halloween Toys for Kids in 2020